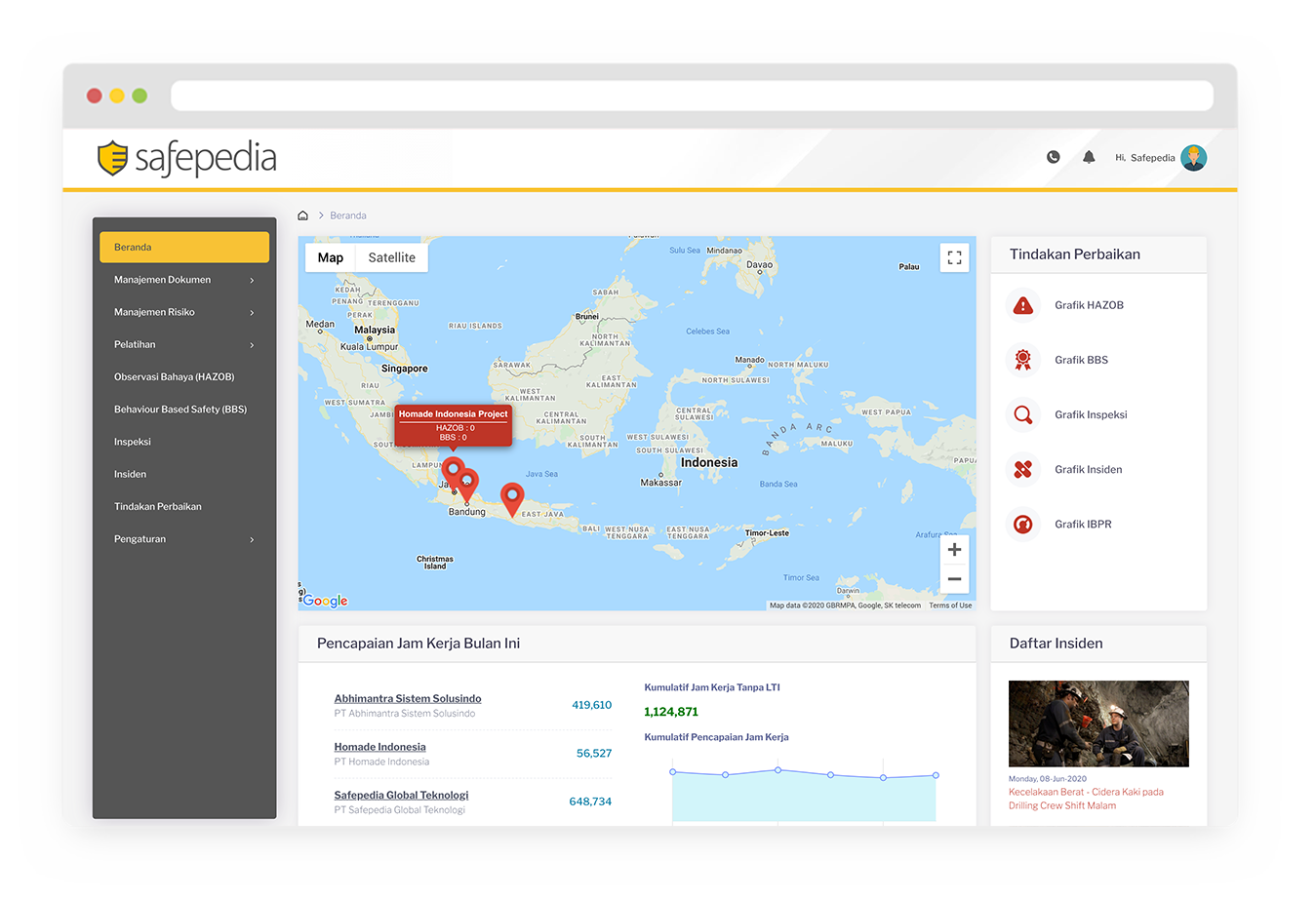 Dashboard modules
Insightful dashboard of overall safety condition
Insightful information from safety perspectives in your daily operational. Making it easier for decision maker to proceed in operational direction. On top of that, giving safety condition in each of their business line.
Feature:
Interactive, easy to digest UI/UX
Key information from safety perspective
Overall organization safety scoring
An ability bestow by our AI capabilities to forecast to test overall resilience on organization
Risk assessment modules
HIRA
Comprehensive hazard identification and risk assessment, imbedded with analytics, to assess each risk precisely.
Top Risk
Top risk from C-suite perspectives, customize top risk preference as C-suite priority, selecting which risk has highest value from C-suite point of view.
Aggregate Risk
Cumulative value of several risks with similar nature, so a certain control will get higher priorities if it's minimize top-risks picked by C-suite preferences.
Control
In a mission, to operates at excellency, each risk has to be controlled effectively. One of our system superiority is capable of assigning control to each risk promptly, and provide better insight on how effective this control works. On top of that, monitoring the effectiveness of the given control.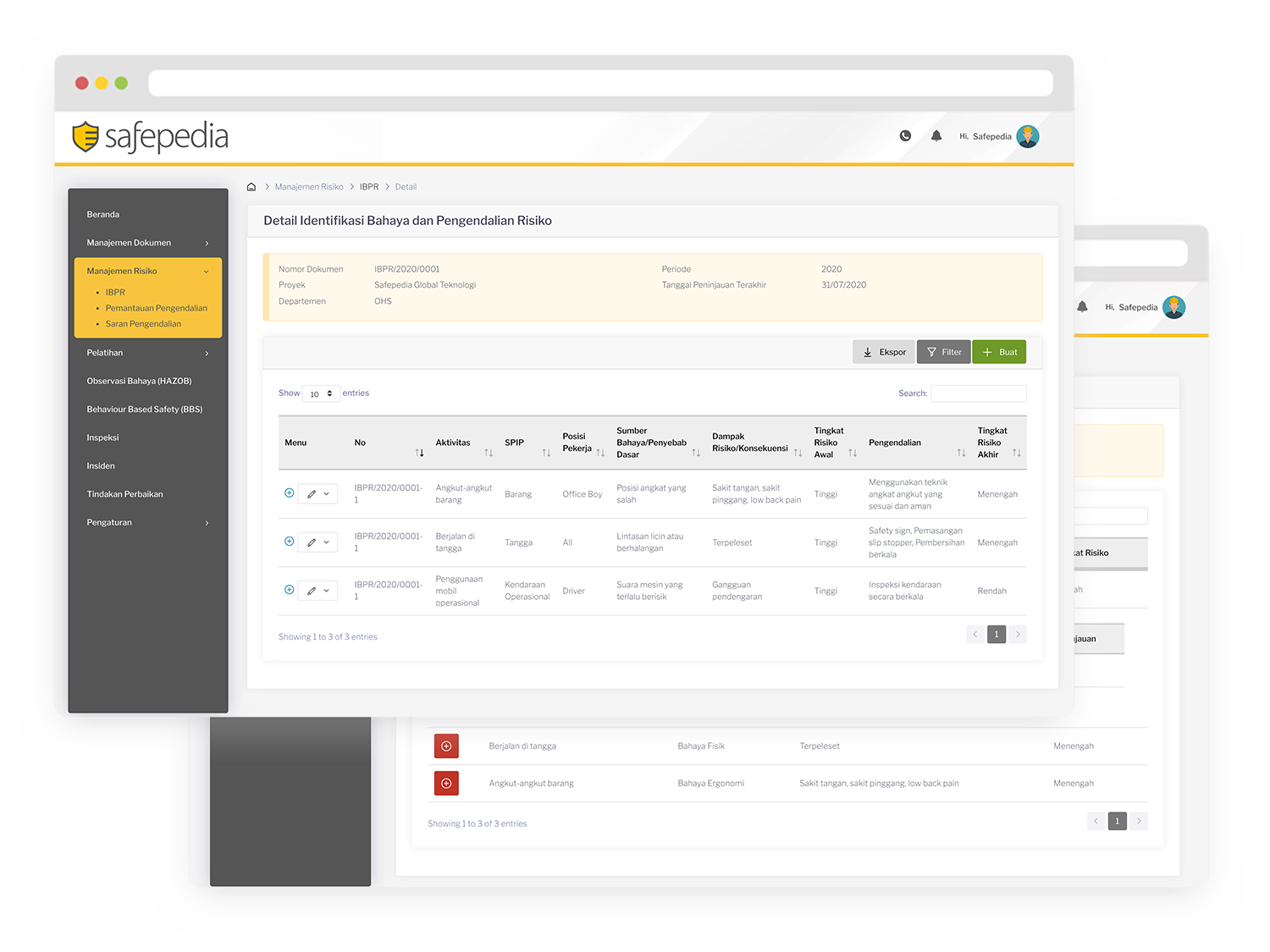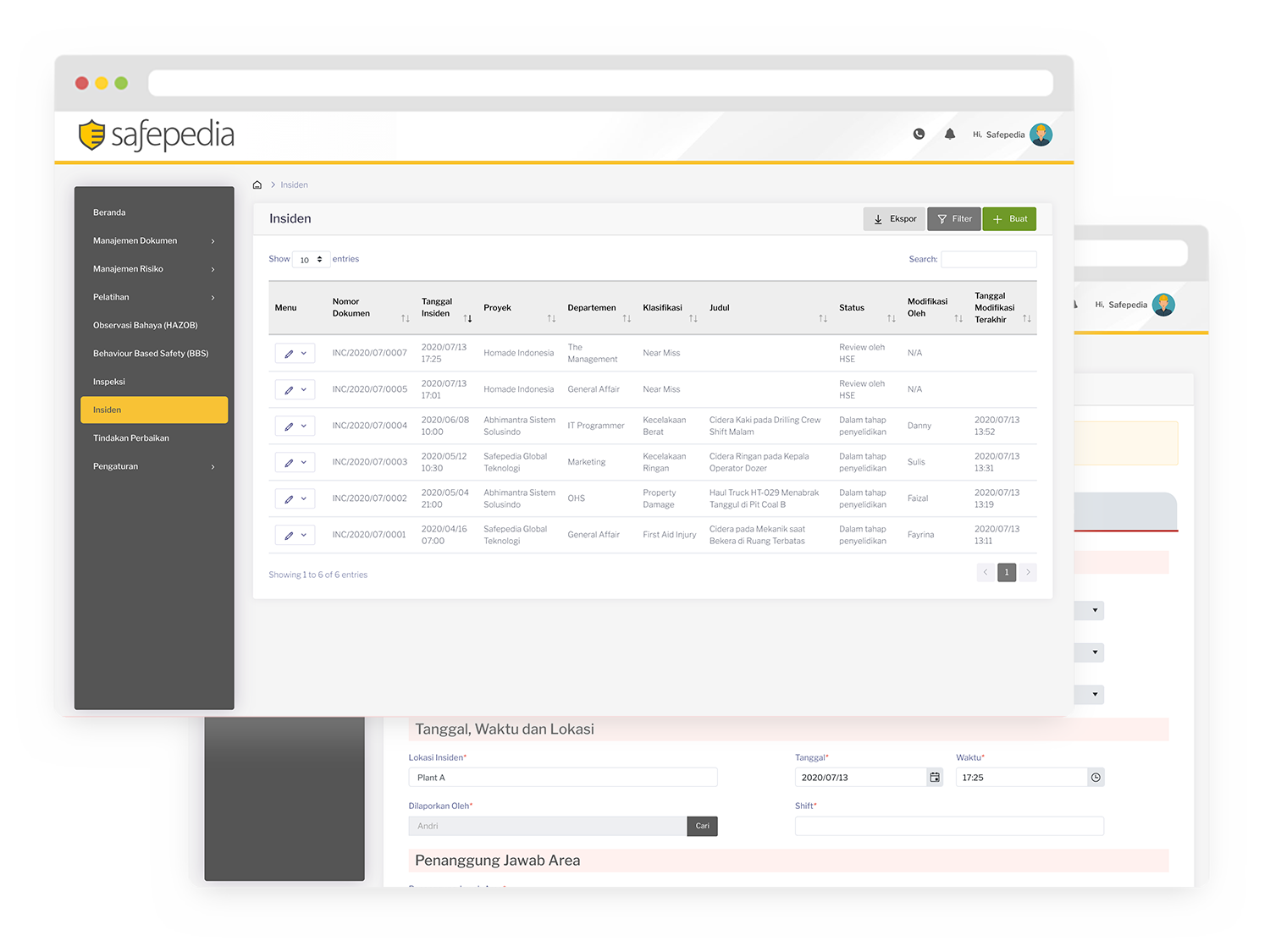 Investigation modules
Comprehensive incident analysis to improve organizational resilience (?)
Critical tool in all safety management system. Our revolutionize approach for incident investigation is to analyze which controls are no effective, thus working to improve that. We start with bowtie method as thinking foundation, generates control related to incident, and as a result initiate non effective control to be improved.
Feature:
Provides a structured risk-based investigation form
Notification to assigned investigator
Support risk management in investigation process
Assign corrective action towards defect controls
Organization modules
Act as foundation for the system to operates efficiently
Guidelines for this system upon operation, and operates as a hub to connecting all our modules seamlessly and efficiently.
Features:
Organization chart
Job description
Training requirement
Safety KPI each employee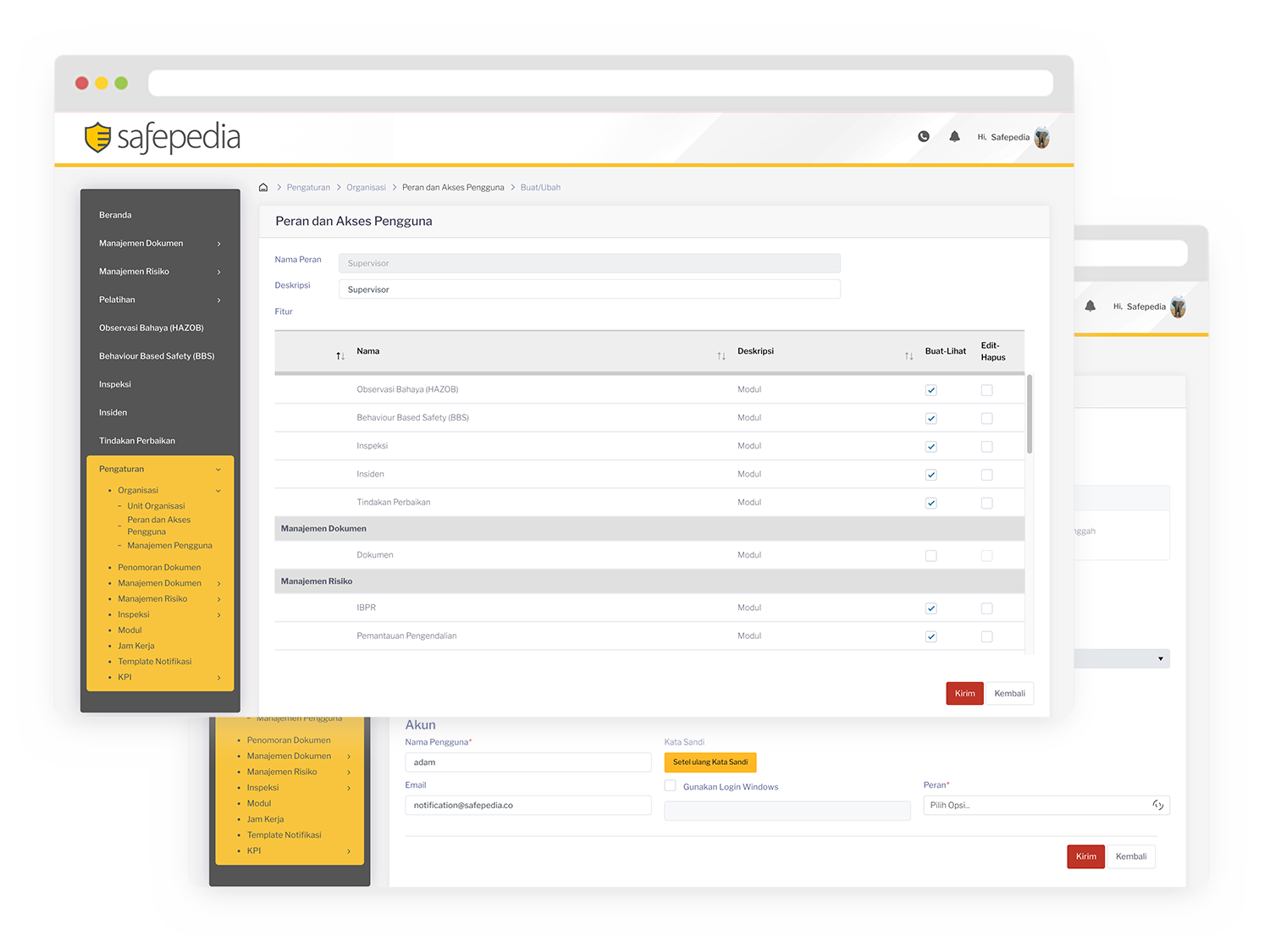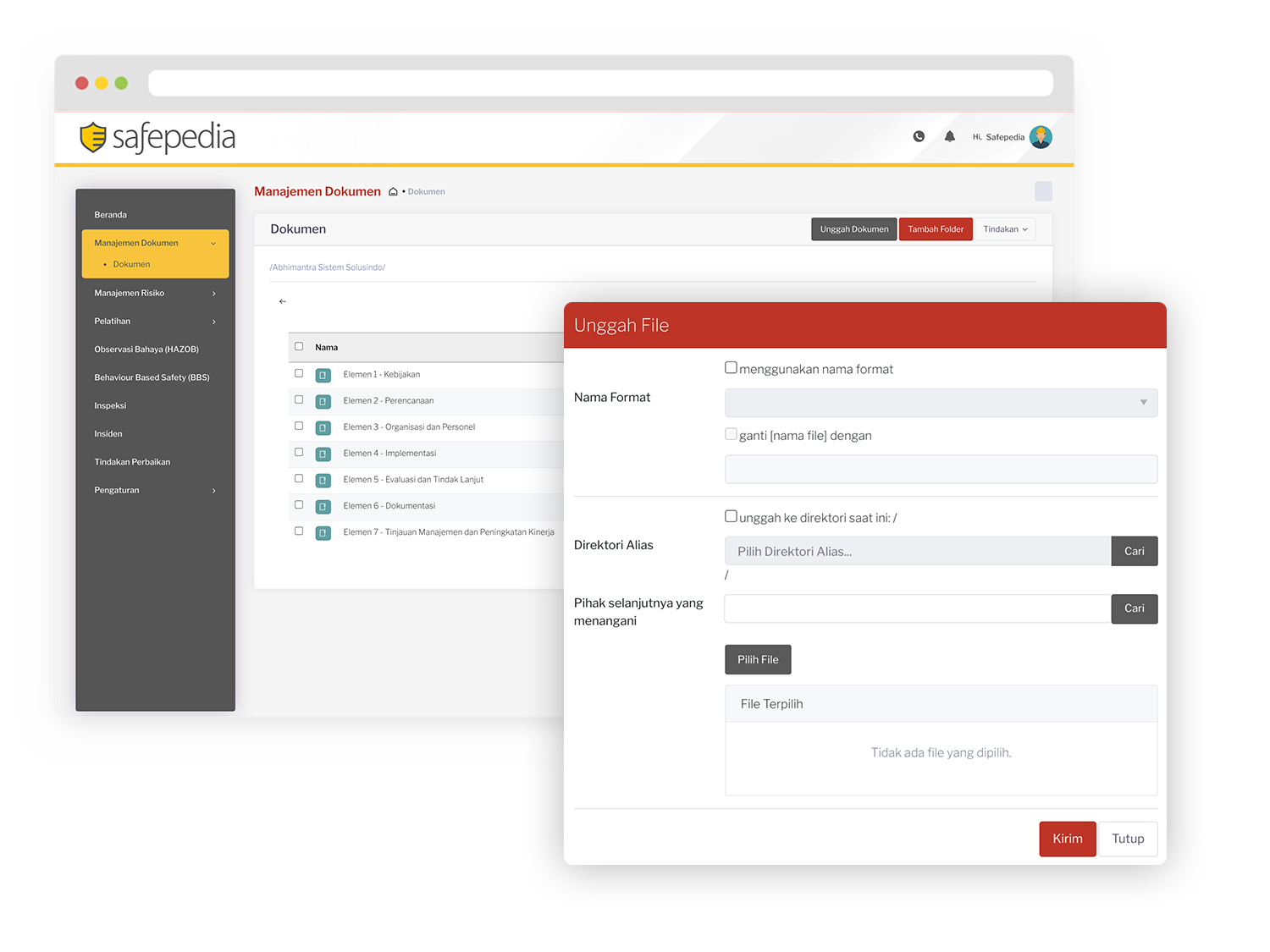 Document management modules
Maintain organization documents on point
All-in-one document management module that can be integrated with other system as well. Organize safety documents while operates the organization. In addition, our document management module have complied with ISO guidelines. Provide a clean and systemic tools for storing your safety operation document.
Features:
Curated search engine
Data extraction
Version control of documents
Track changes on document
Unlimited storage for historical data
Internal audit modules
Integrate audit activities with follow-up to empower improvement environment
Provides tools to improve your internal audit activities. Integrates with corrective action module to give streamlined operation due to advance UI/UX. On top of that, supported by corrective action to remove all non conformities.
Features:
Streamline audit activities by integrating with document management module
Better improvisation upon finding with corrective action module
Conformity level display and description in dashboard module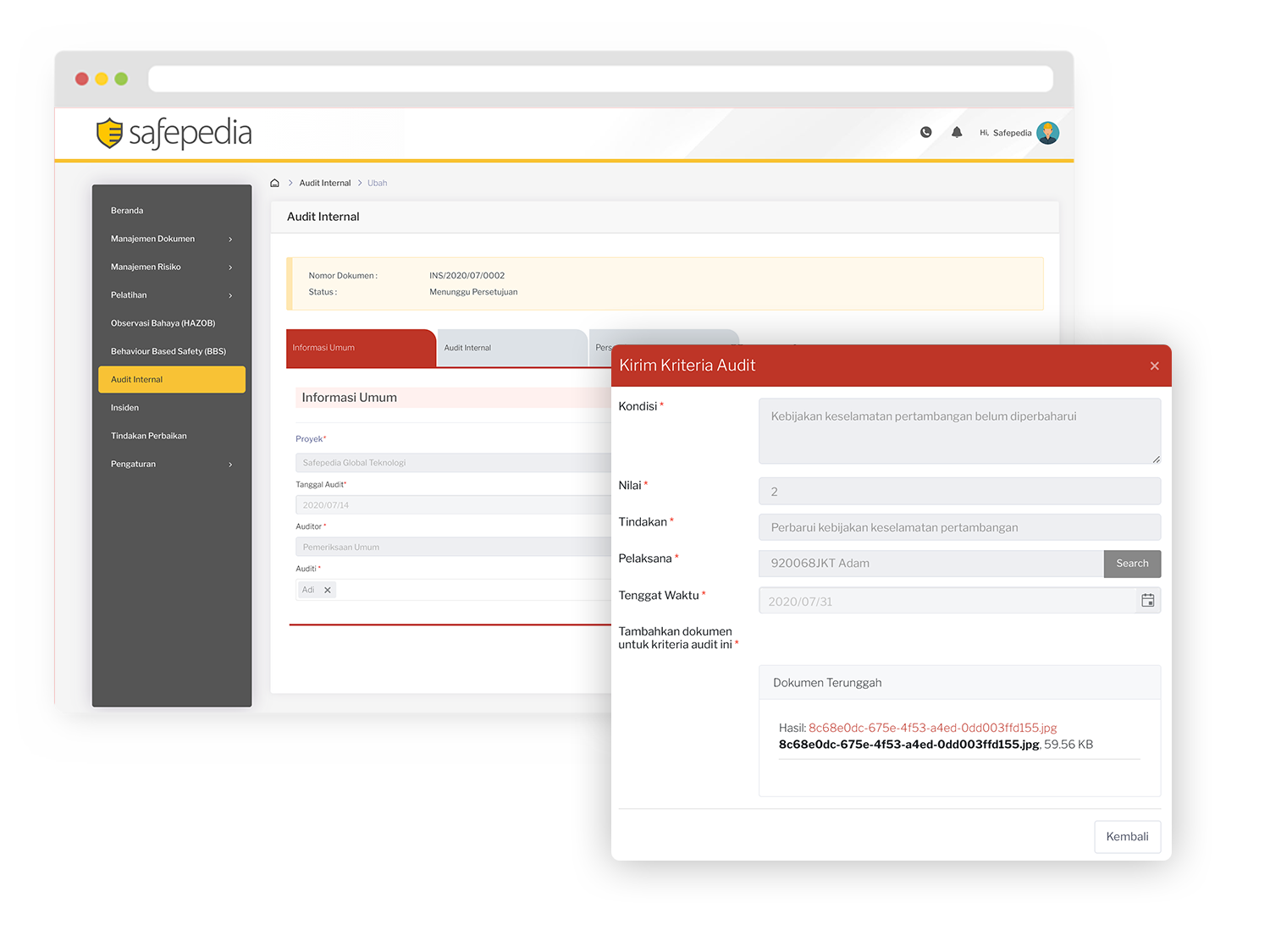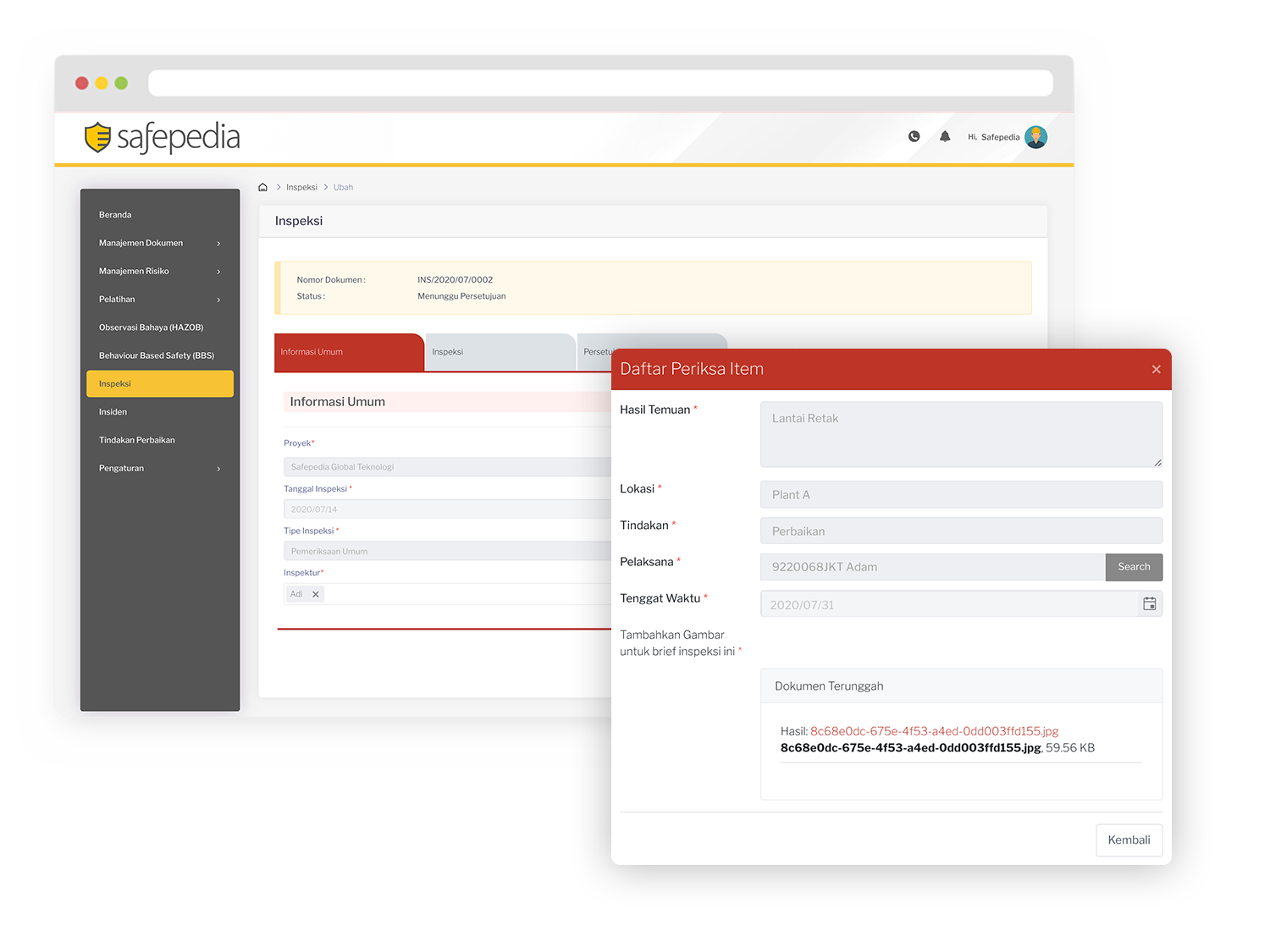 Inspection modules
Ensure operation smoothness
Inspection modules enable organization to be in check with operation environment within their scope. Which allow findings to be communicated efficiently and as a result, corrective action will be taken much faster. And it supports operation performance required in ISO standards.
Features:
Real time report
Notification to business process owner
Comes in 2 format, general and specific inspection and supports fully customizable
Available in mobile application
Behavior based safety observation module
Increase awareness, provide better working environment
Our module uses standardized observation methodology from behavior-based safety (BBS) expert. Designed to comply with international requirements and best practices to provides efficiency by increasing awareness in your organization's employee. Thus, generate safer working environment within your organization.
Feature:
Analyze each report to assess potential improvement in behavior-based safety process
Provide relevant document
Integrates with corrective action template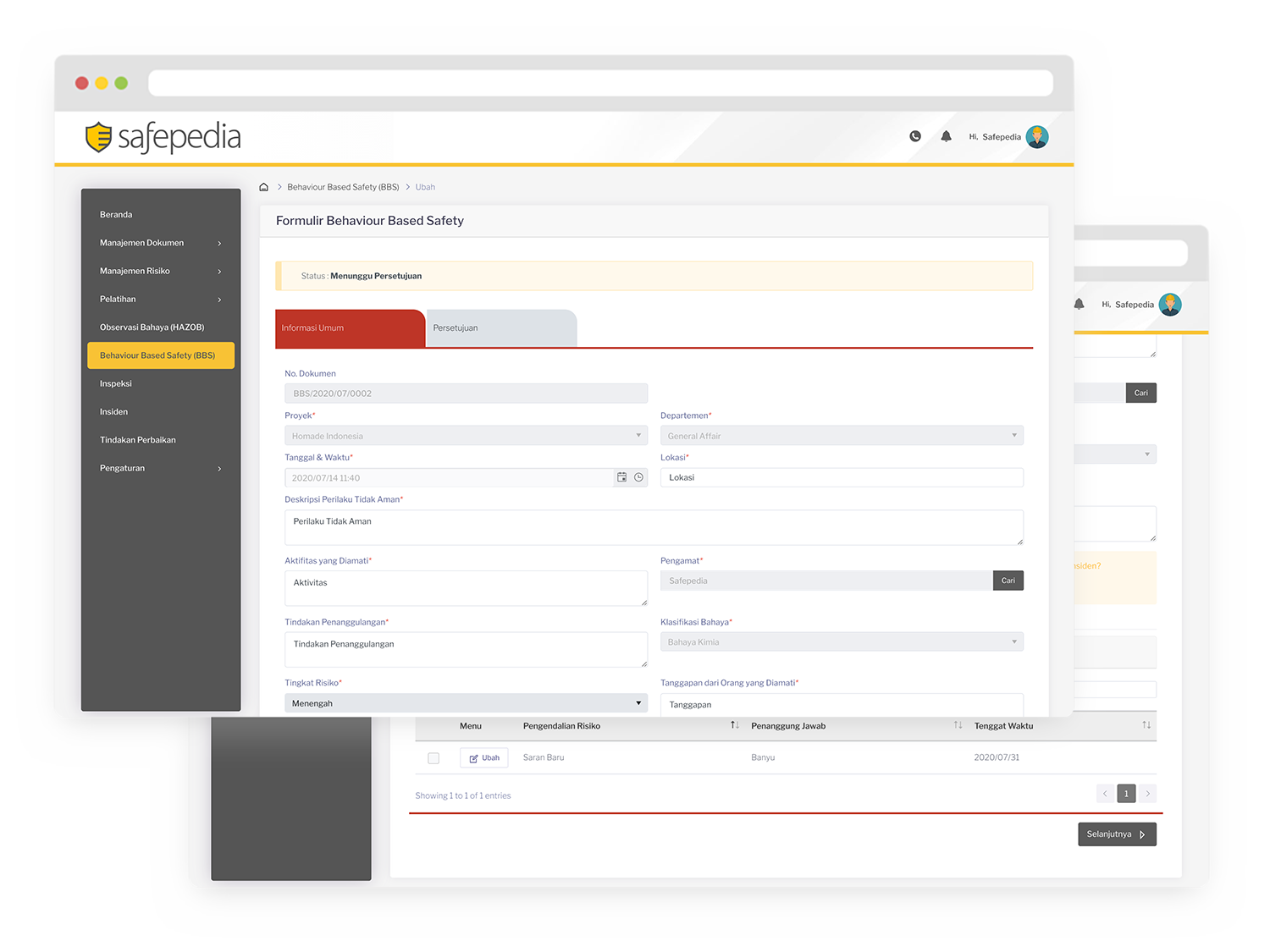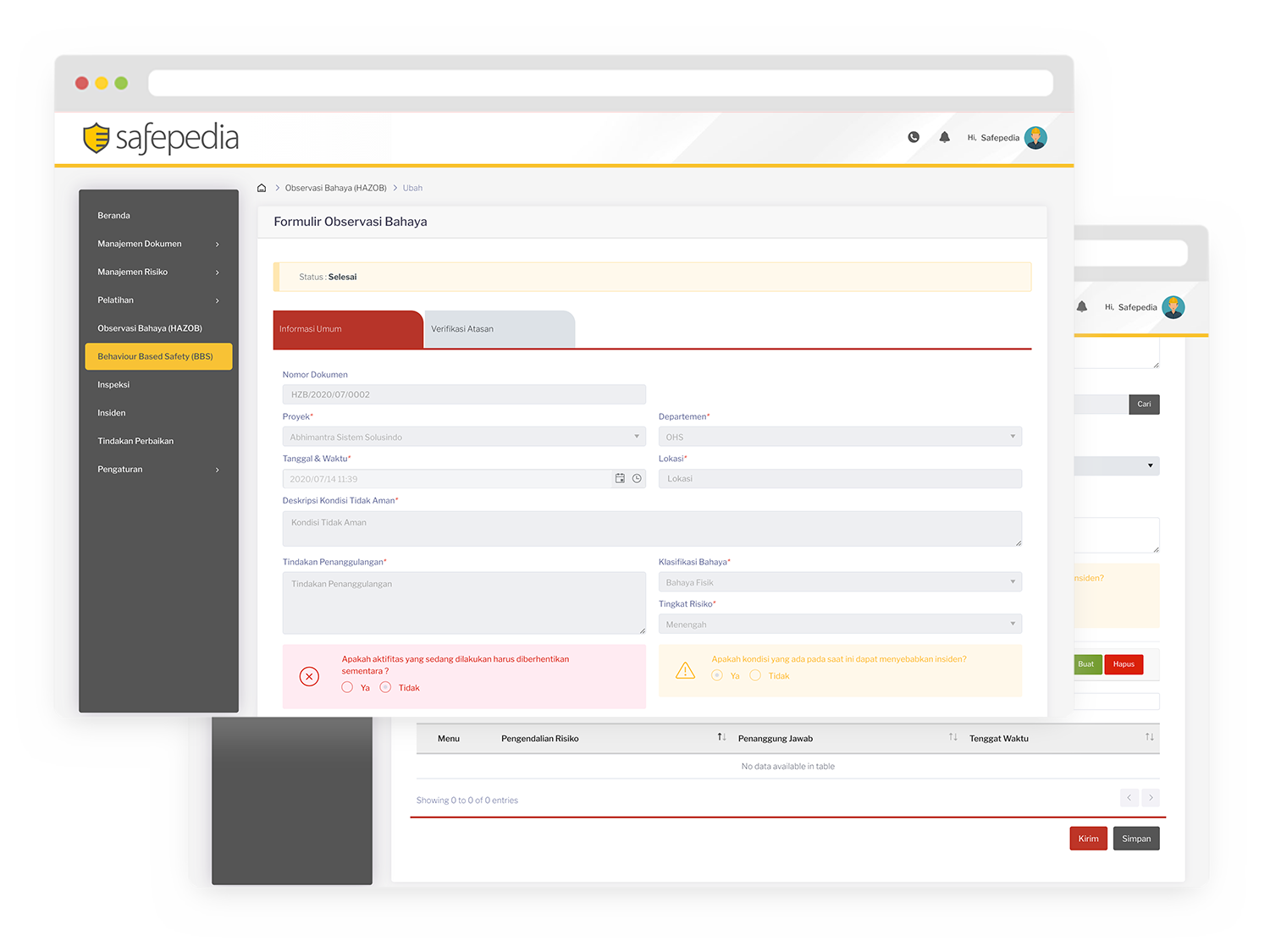 Safe card (Hazard inspection) modules
Improve hazard awareness within organizational scope of business
Recognize hazard in organizational environment, thus generate hazard awareness in employee mindset. By constantly submit safe card, safety environment will bestow in organization.
Feature:
Hazard identification based on safety perspective
Provide 360 degree perspective towards hazard identification
Follow up action to address specific hazard
Corrective action register modules
Summarize whole corrective action, functioning as monitor
Key component of integrated safety system, a snapshot of overall progress regarding corrective action being processed.
Feature:
All in one corrective action being summarize in one module
Progress tracking
Specific task to every individual in the organization
Notification for status (overdue, near deadline)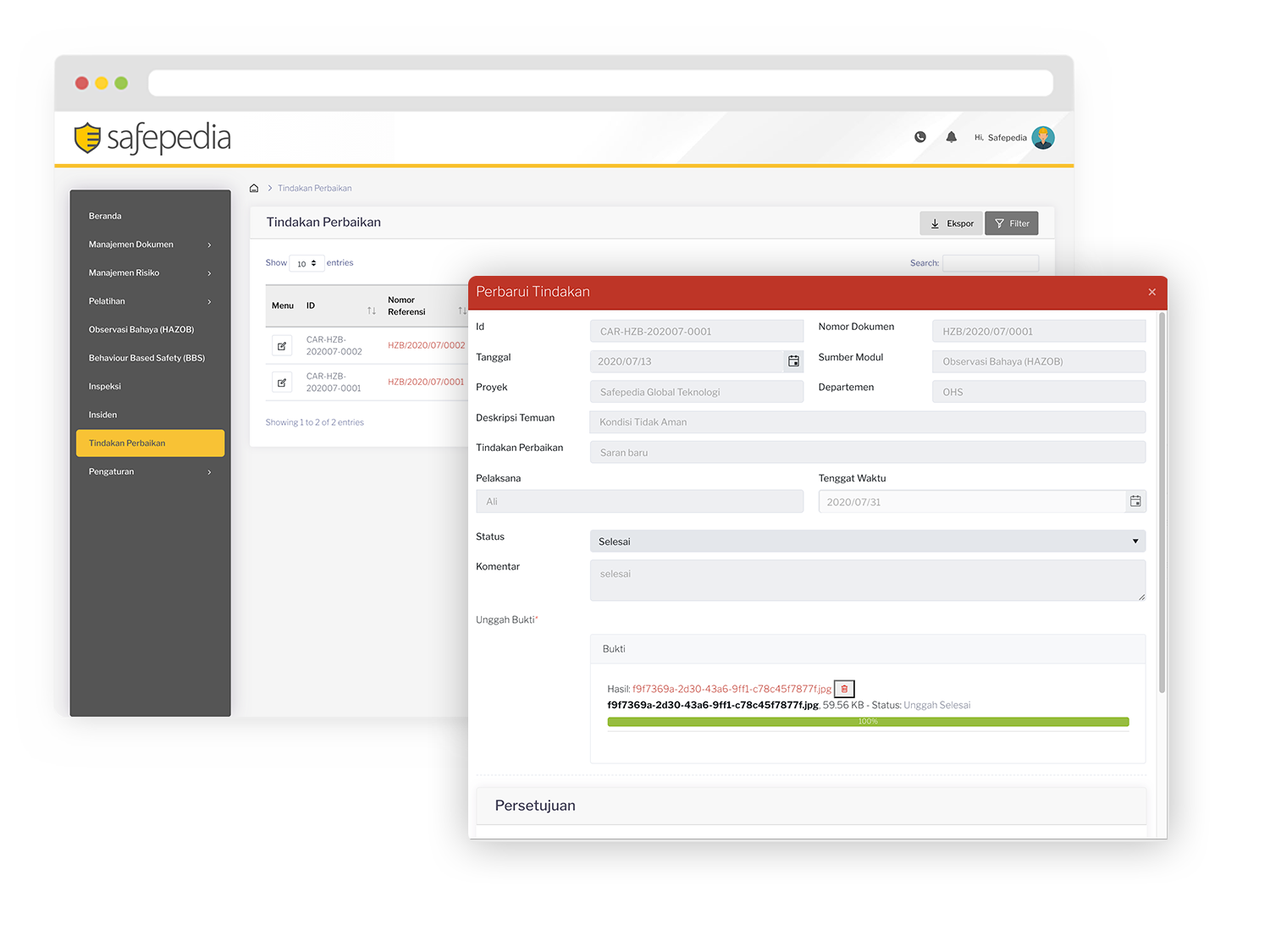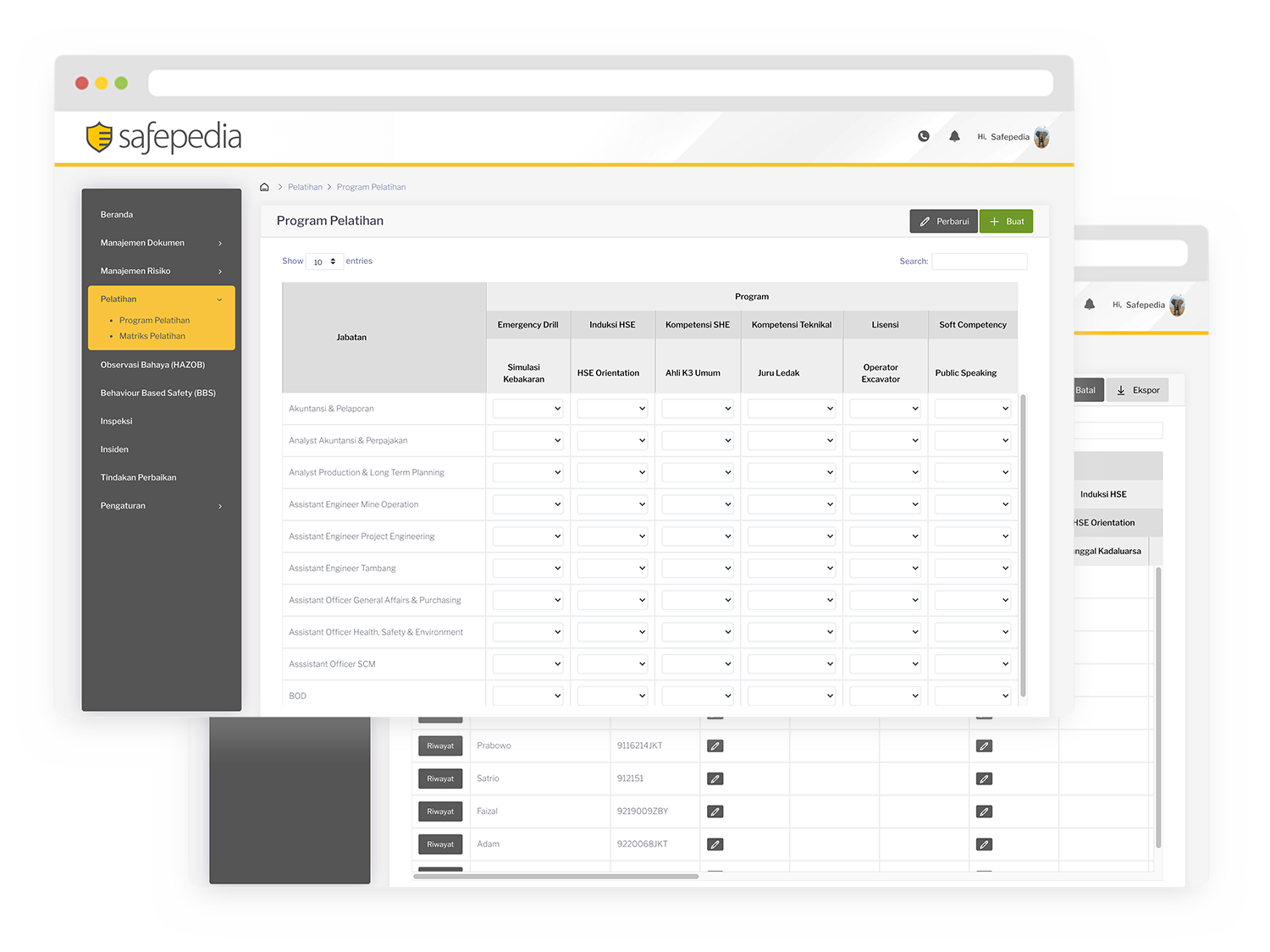 Training modules
Monitor training compliance required for each employee
Never miss dates of registry expiration date for each employee, keep your human comply with trainin. On top of that, keeps your human capital skilled.
Feature:
Notification of training license expiration
Training matrix for customizable approach
Assign specific training for each employee
We provide mobile application for workers in order to promote their safety behavior which is connected seamlessly with safety performance web dashboard for management.